Never miss a cron job again!
Cronly helps you sleep better at night. Just schedule your cron jobs in the cloud, and we'll tell you when your updates, analytics, payments or emails are failing.
Set up your first monitor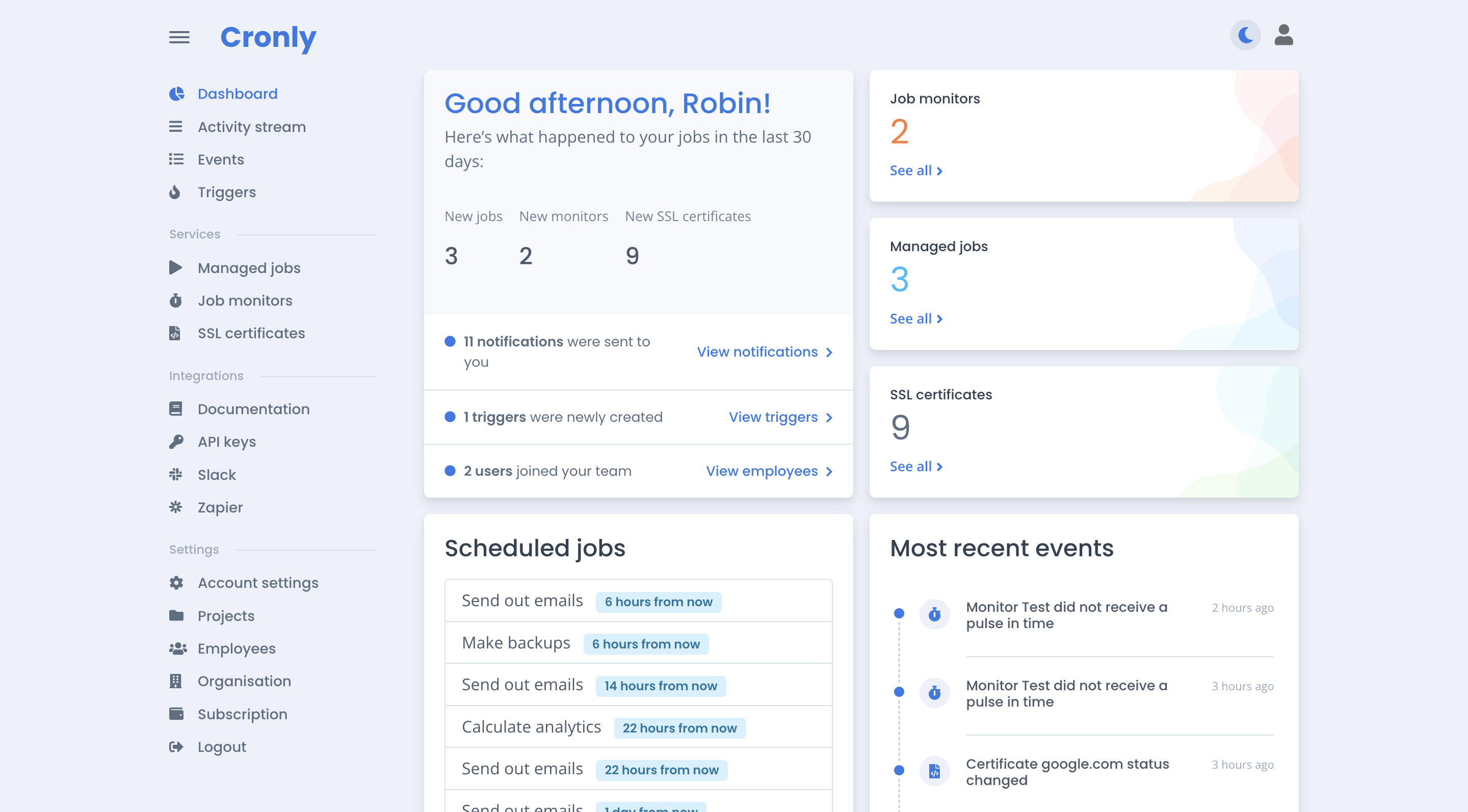 Sleep better at night.
We've got everything covered. From the most basic to the most advanced cron job, we've got everything in place to make sure it's running smoothly.
Manage projects
Use projects to group your monitors and tasks together. Set up custom notification groups.
Manage team members
Not all team members are created equally. We allow you to set permissions for your team.
Hundreds of integrations
Use Zapier to link your monitors to hundreds of services, or use the built-in Slack and email integrations.
Built-in scheduling
Want to be extra sure that your jobs are running? Schedule them from Cronly.
Advanced API
Want to integrate our functionalities with your own? We've got an extensive API for you.
Docs for devs
Our documentation is written for humans, not computers. Easy to use and easy to understand.
Free SSL monitoring
We all hate expired certificates. Use Cronly to monitor unlimited SSL certificates for free.
Simple dashboard
Get an overview of your jobs and their status in a simple dashboard. No need to monitor things yourself.
"We have many scripts and cron jobs that we maintain at Unit. And Cronly has been so fast to set up and get them running and monitoring. Saves us so much time! Most jobs take less than 1 minute to set up! Will be using it for more complex cron jobs we're in the process of building."
Calculate your savings with Cronly
Compare the cost of running your cron jobs with Cronitor and see how much you can save.
Trusted by developers worldwide
Developers from all over the world trust us with their most critical tasks.
Developers

400

Monitors

1200

SSL Certificates

900